ITI Treatment Guide Volume 9 - Header
ITI Treatment Guide Volume 9
Implant Therapy in the Geriatric Patient
ITI Treatment Guide Volume 9 - Implant Therapy in the Geriatric Patient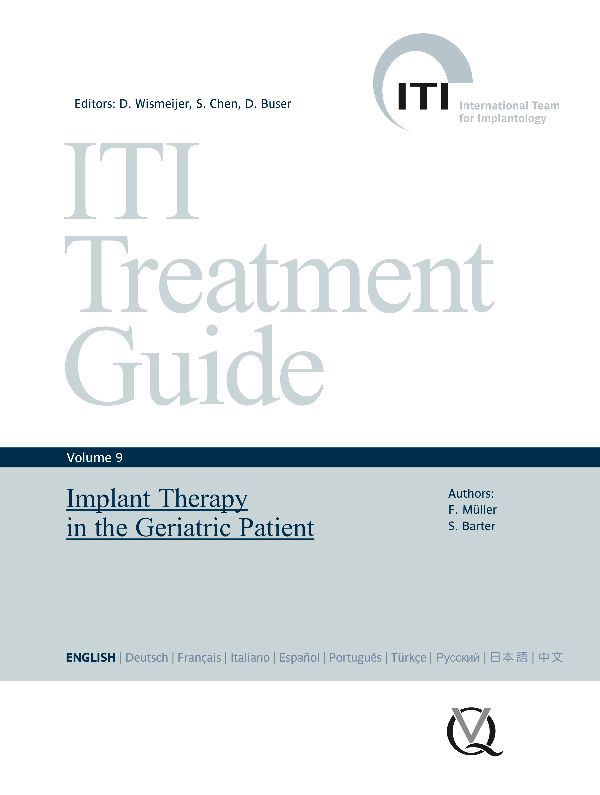 After a very successful series of eight previous Treatment Guides, it seems logical to consider patients as they grow older and may become frail and more dependent on care. Volume 9 of the ITI Treatment Guide attests to the ITI's holistic approach to implant dentistry and to its professional responsibility for patients who have aged with implant-supported restorations in place, as well as for patients at a more advanced age who, until late in life, can benefit from the progress we have made in terms of the materials and techniques that present-day implant dentistry has to offer.
Authors
Frauke Müller, Dr med dent, Professor
Stephen Barter, BDS MSurgDent RCS
Case Contributors
Daniel Buser, DDS, Dr med dent, Professor
Anthony Dickinson OAM, BDSC, MSD
Shahrokh Esfandiari, BSc, DMD, MSc, PhD
Richard Leesungbok, DMD, MSD, PhD
Gerry McKenna, BDS, MFDS RCSEd, PhD, PgDipTLHE, FDS (Rest Dent) RCSEd, FHEA
Robbert Jan Renting
Mario Roccuzzo, DMD, Dr med dent
Martin Schimmel, Dr med dent, MAS Oral Biol, Professor
Shakeel Shahdad
Murali Srinivasan, Dr med dent, BDS, MDS, MBA
Ulrike Stephanie Webersberger, Priv Doz, Dr med dent, Dr sc hum, MSc
Share this page
Download the QR code with a link to this page and use it in your presentations or share it on social media.
Download QR code