ITI Treatment Guide Volume 12 - Header
ITI Treatment Guide Volume 12
Peri-Implant Soft-Tissue Integration and Management
ITI Treatment Guide Volume 12 - Peri-Implant Soft-Tissue Integration and Management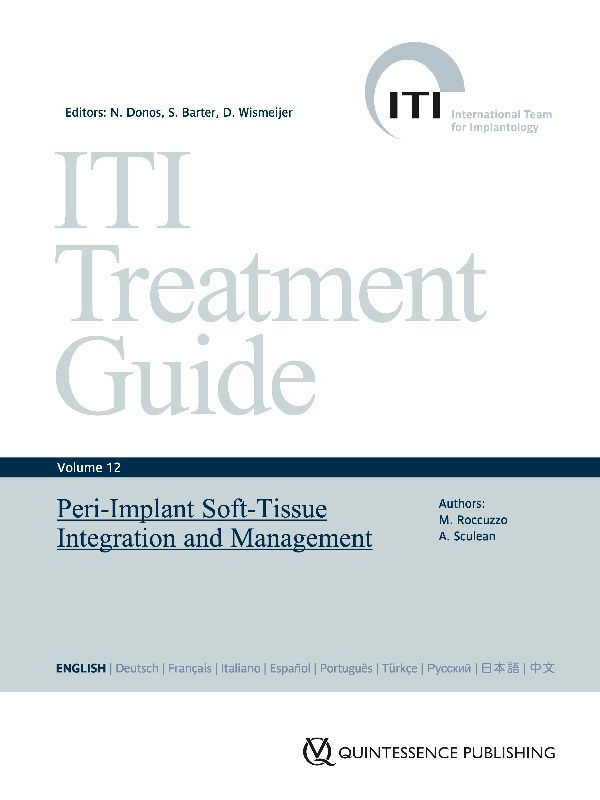 Popular demand for dental implants as a reliable long-term option to replace missing teeth has risen dramatically. However, situations remain that pose challenges to practitioners and the treatment process.
Written by renowned clinicians and supported by cases contributed by expert practitioners, Volume 12 of the ITI Treatment Guide series highlights the integration and management of peri-implant soft tissues.
It discusses soft-tissue management before and during implant placement and during supportive peri-implant therapy and addresses the techniques and materials used for peri-implant soft-tissue augmentation and replacement and for the treatment of peri-implant soft-tissue dehiscences.
View free excerpt
Not a member? Not a problem! Get a free sneak peek into the ITI Treatment Guide Volume 12.
Get your print copy
ITI Fellows and Members receive a 50% discount on print copies of the entire ITI Treatment Guide series and have access to the online versions of all available ITI Treatment Guide volumes.
Log in to My ITI to purchase print copies through Quintessence and to view the online versions.
Authors
Mario Roccuzzo, DMD, Dr med dent
Anton Sculean, Professor, Dr med dent, Dr h c, MSc
Case Contributors
Sofia Aroca, Dr med dent, PhD
Paolo Casentini, DDS, Dr med dent
Raffaele Cavalcanti, DDS, PhD
Nikolaos Donos, DDS, MS, FHEA, FDSRC, PhD
Daniel Etienne, Dr chir dent, MSc
Jason R Gillespie, BS DDS MS
Alfonso Gil, DDS, MS, PhD
Christoph Hämmerle, Professor, Dr med dent, Dr h c
Vincenzo Iorio-Siciliano, DDS, MS, PhD
Ronald Jung, Professor, Dr med dent, PhD
Eduardo Lorenzana, DDS, MSc
Neil MacBeth, BDS, MFGDP, MGDS RCS, MFDS RCS, FFGDP (UK), MSc, FDS RCS (Rest Dent), CDLM, RAF
Kurt Riewe, DDS
Shakeel Shahdad, BDS, MMedSc, FDS RCSEd, FDS (Rest. Dent.), RCSEd, DDS, FDT Fed
Daniel Thoma, Professor, Dr med dent
Pietro Venezia, DDS
Share this page
Download the QR code with a link to this page and use it in your presentations or share it on social media.
Download QR code