ITI Treatment Guide Volume 7 - Header
ITI Treatment Guide Volume 7
Ridge Augmentation Procedures in Implant Patients – A Staged Approach
ITI Treatment Guide Volume 7 - Ridge Augmentation Procedures in Implant Patients A Staged Approach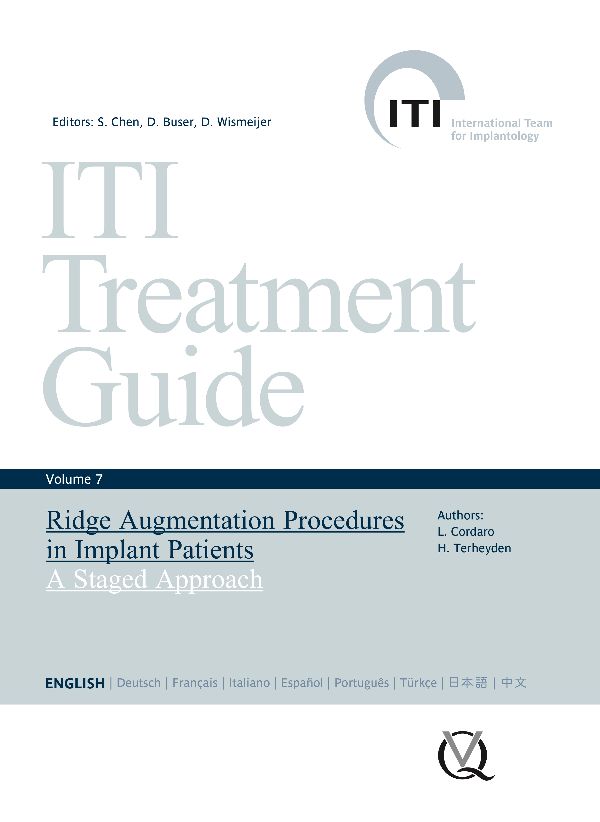 Volume 7 of the ITI Treatment Guide series provides clinicians with the latest evidence-based information on the techniques and materials utilized for ridge augmentation. An up-to-date analysis of the current evidence is based in part on the proceedings of the ITI Consensus Conferences in Stuttgart (2008) and Bern (2013) and a review of the current literature. Twelve clinical cases demonstrate the planning and treatment principles required to successfully rehabilitate patients with varying degrees of ridge atrophy.
Authors
Luca Cordaro, MD, DDS, PhD
Hendrik Terheyden, MD, DDS, Dr med, Dr med dent, Professor
Case Contributors
Daniel Buser, DDS, Dr med dent
Urs C. Belser, DMD, Prof Dr med dent
Emma L. Lewis, BDS, MBBS
Frank Lozano, DMD, MS
Paolo Casentini, DDS, Dr med dent
Bruno Schmid, Dr med dent
Waldemar D. Polido, DDS, MS, PhD
Paulo Eduardo Pittas do Canto, DDS
Mario Roccuzzo, DMD, Dr med dent
Dieter Weingart, Dr med, Dr med dent, Professor
Yong-Dae Kwon, DMD, MSD, PhD, Professor
Matteo Chiapasco, MD, Professor
João Emílio Roehe Neto, DDS
Share this page
Download the QR code with a link to this page and use it in your presentations or share it on social media.
Download QR code