ITI Treatment Guide Volume 1 - Header
ITI Treatment Guide Volume 1
Implant Therapy in the Esthetic Zone – Single-Tooth Replacements
ITI Treatment Guide Volume 1 - Implant Therapy in the Esthetic Zone – Single-Tooth Replacements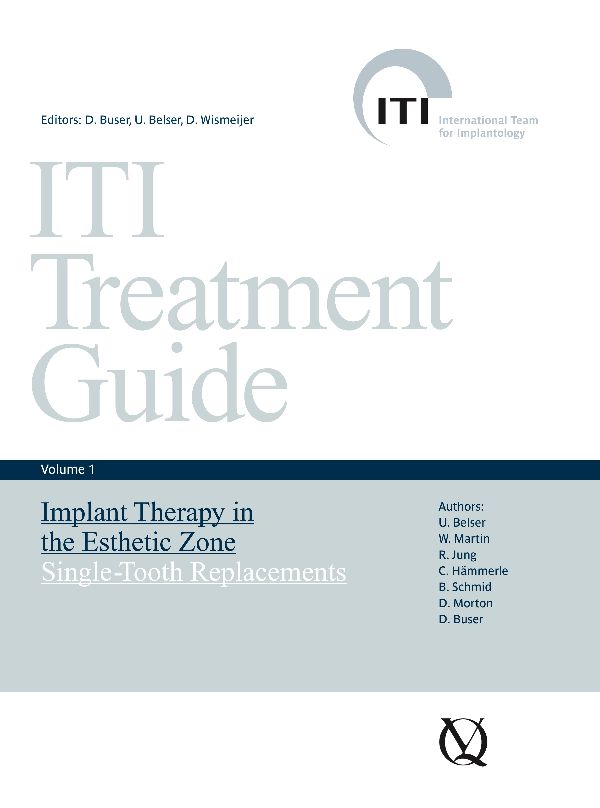 Esthetics represents an indispensable aspect of oral rehabilitation. This first volume of the ITI Treatment Guide takes its readers through the entire treatment process, starting with the assessment of the patient's individual esthetic risk profile and proceeding to ideal three-dimensional implant placement and proven prosthetic management options.
The various aspects are illustrated using patient case studies. Detailed illustrations serve to clarify any potential ambiguities. An analysis of potential complications in esthetic implant dentistry completes this first volume.
Authors
Urs C. Belser, DMD, Professor
Daniel Buser, DMD, Professor
Christoph Hämmerle, DMD, Professor
Ronald Jung, DMD
William C. Martin, DMD, MS
Dean Morton, BDS, MS
Bruno Schmid, DMD
Publications - Treatment Guide Slider
Share this page
Download the QR code with a link to this page and use it in your presentations or share it on social media.
Download QR code