ITI Treatment Guide Volume 10 - Header
ITI Treatment Guide Volume 10
Implant Therapy in the Esthetic Zone – Current Treatment Modalities and Materials for Single-tooth Replacements
ITI Treatment Guide Volume 10 - Implant Therapy in the Esthetic Zone – Current Treatment Modalities and Materials for Single-tooth Replacements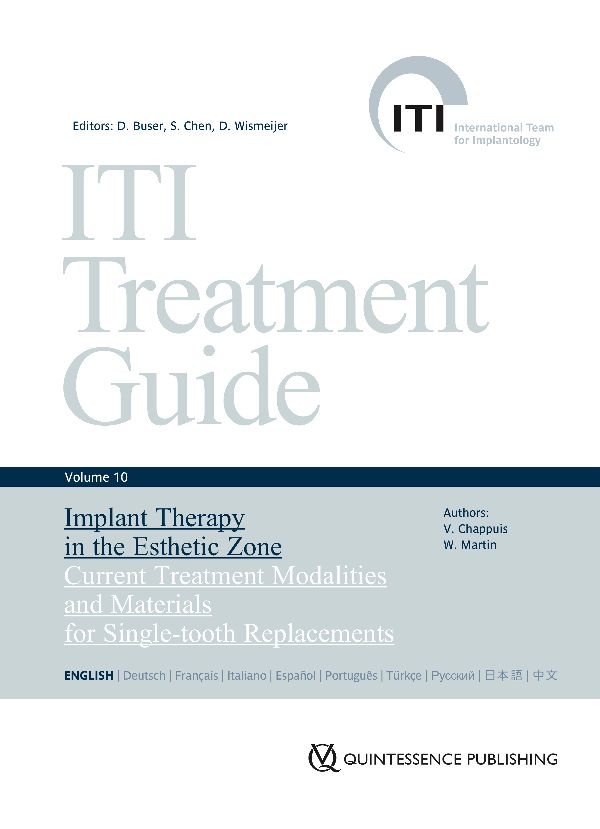 Following the 10th anniversary of the Treatment Guide Series, the ITI decided it was a good time to revisit single- tooth replacements in the esthetic zone as great advancements in materials and technology have been realized since the release of Volume 1.
Volume 10 provides the reader with a comprehensive, evidence-based approach to single-tooth replacement in the esthetic zone from consultation to follow-up, with a focus on current treatment modalities and materials that today's implant dentistry has to offer.
Authors
Vivianne Chappuis, DDS, Dr med dent, PD, Assistant Professor
William Martin, DMD, MS, Clinical Professor
Case Contributors
Urs Belser, DMD, Dr med dent
Dieter Bosshardt, PhD, Associate Professor
Allen Russell Burgoyne, BSc, DDS, MSD, Cert Prostho
Daniel Buser, DDS, Dr med dent, Professor
Paolo Casentini, DDS, Dr med dent
Stephen Chen, MDSc, PhD, FRACDS
Wagner Duarte, DDS, PhD
Michael Gahlert, Dr med dent
Jason Gillespie, DDS, PA
Adam Hamilton, BDSc, FRACDS, DCD
Alessandro Januario, DDS, MS, PhD
Scott Keith, DDS, MS
Chatchai Kunavisarut, DDS, MS, Assistant Professor
Eduardo R. Lorenzana, DDS, MS
Dean Morton, BDS, MS, Professor
Paulo Eduardo Pittas do Canto, DDS
Waldemar D. Polido, DDS, MS, PhD
Simon Storgård Jensen, DDS
Daniel S. Thoma, PD, Dr med dent
Publications - Treatment Guide Slider
Share this page
Download the QR code with a link to this page and use it in your presentations or share it on social media.
Download QR code