ITI Treatment Guide Volume 5 - Header
ITI Treatment Guide Volume 5
Sinus Floor Elevation Procedures
ITI Treatment Guide Volume 5 - Sinus Floor Elevation Procedures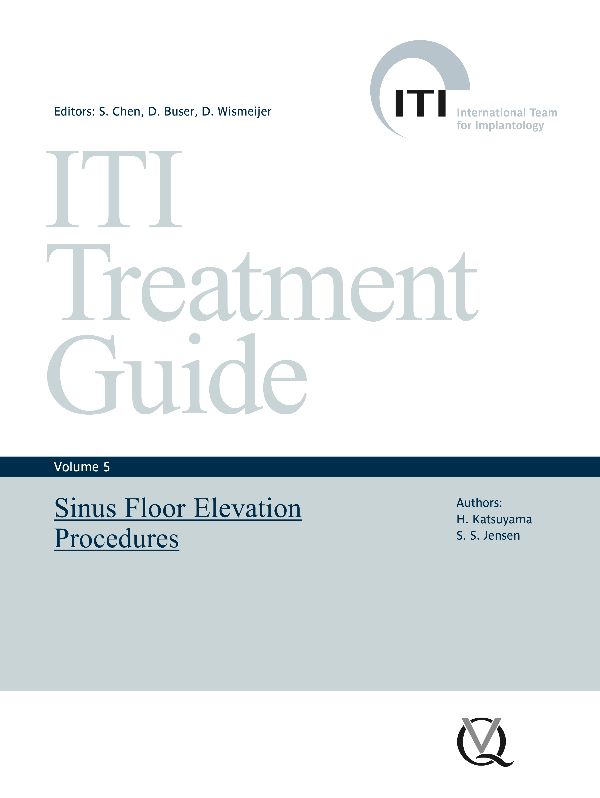 Today, bone grafts and bone substitutes are successfully used to augment the bone volume of the floor of the maxillary sinus. Volume 5 of the ITI Treatment Guide series provides clinicians with evidence-based data and practical information relating to sinus floor elevation procedures.
Strong emphasis has been placed on proper case selection, based on a comprehensive clinical and radiological examination of the patient. Detailed case studies and illustrations support the clinical recommendations and highlight the challenges associated with the management of complications of these surgical procedures.
Authors
Hideaki Katsuyama, DDS, PhD
Simon Storgård Jensen, DDS
Case Contributors
Bjarni Pjetursson, Professor Dr
Vivianne Chappuis, Dr med dent
Ali Tahmaseb, DDS
Christiaan ten Bruggenkate, Professor Dr
Daniel Buser, DDS, Dr med dent
Robert A. Levine, DDS
Paolo Casentini, Dr med dent
Luca Cordaro, MD, DDS, PhD
Waldemar D. Polido, DDS, MS, PhD
Eduardo Marini, DDS, MS
Sanja Umanjec-Korac, DDS, MSc
Timothy Head, DDS
Matteo Chiapasco, MD
Share this page
Download the QR code with a link to this page and use it in your presentations or share it on social media.
Download QR code