ITI Treatment Guide Volume 3
Implant Placement in Post-Extraction Sites – Treatment Options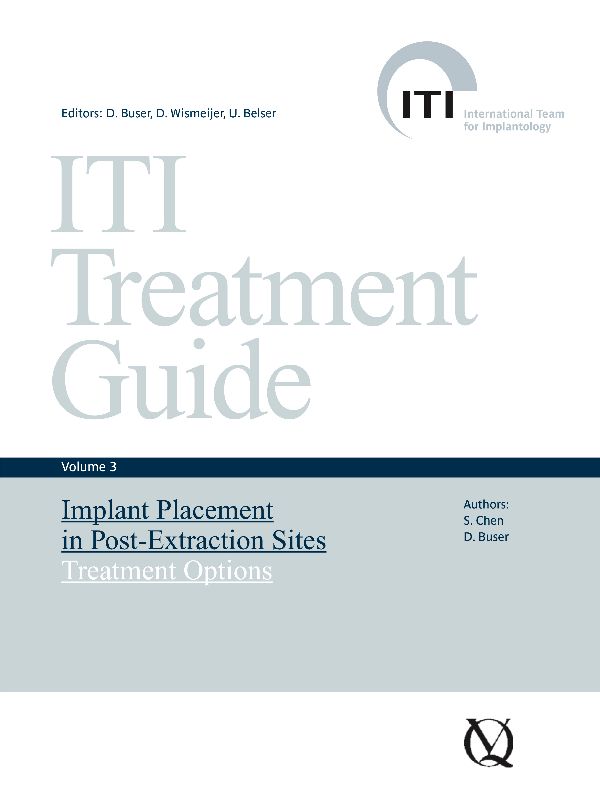 Volume 3 of the ITI Treatment Guide series provides clinicians with practice-oriented and evidence-based information about implants inserted in post-extraction sites.
Based in part on the results of the 3rd ITI Consensus Conference held in 2003, Volume 3 not only provides an up-to-date analysis of the current literature, but also offers an extensive overview of the advantages and shortcomings of the different implant placement protocols.
In addition to 15 case presentations illustrating the use of the various placement protocols in clinical practice, this volume also discusses factors influencing treatment outcomes of implant therapy in post-extraction sites as well as potential complications.
Authors
Stephen Chen, MDSc, Dr
Daniel Buser, DMD, Professor
Case Contributors
Jay R. Beagle, DDS, MSD
Marina S. Bello-Silva, DMD, PhD Student
Shayne Callis, M Dent (Wits), ADC, BDS (Wits)
Luiz O. A. Camargo, DMD, PhD
Roberto Cornelini MD, DDS
Anthony J. Dickinson, BDSc, MSD
Christopher Evans, BDSc Hons (Qld), MDSc (Melb)
German O. Gallucci, DMD, Dr med dent
Christopher Hart, BDSc, Grad Dip Clin Dent, MDSc
Lisa J. A. Heitz-Mayfield, BDS, MDSc, Odont Dr, Assoc Professor
Yasushi Nakajima, DDS
Robert Nieberler, Dr med dent
Mario Roccuzzo, DMD, Dr med dent
Anthony Sclar, OMS
Pedro Tortamano-Neto, DMD, PhD