ITI Treatment Guide Volume 11 - Header
ITI Treatment Guide Volume 11
Digital Workflows in Implant Dentistry
ITI Treatment Guide Volume 11 - Digital Workflows in Implant Dentistry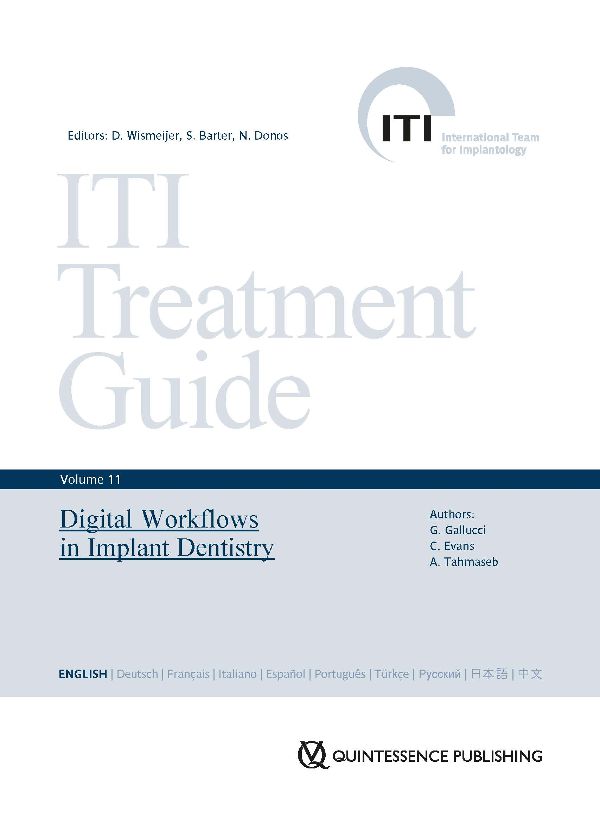 This new Volume 11 of the ITI Treatment Guide series continues the successful theme of the previous ten volumes: a compendium of evidence-based methodology in digital techniques and procedures for daily practice. Written by renowned clinicians and supported by contributions from expert practitioners, the ITI Treatment Guide "Digital Workflows in Implant Dentistry" provides a comprehensive overview of various technological options and their safe clinical application.
Authors
German O. Gallucci, DDS, Dr med dent (DMSc), PhD
Christopher Evans, BDSc Hons (Qld), MDSc (Melb); MRACDS (Pros), FPFA
Ali Tahmaseb, DDS, PhD
Case Contributors
Nawal Alharbi, BDS, MSc, PhD
Orlando Álvarez del Canto, DDS, MS
Jyme Charette, DMD, MSD
Krzysztof Chmielewski, MSc
André Barbisan de Souza, DDS, MSc
Wiebe Derksen, DDS, MSc
Simon Doliveux, DDS, MMSc
Christianne Fijnheer, MSc, MSc
Gary Finelle, DDS
Adam Hamilton, BDSc, FRACDS, DCD
Bassam Hassan, DDS, MSc, PhD
Tim Joda, Prof Dr med dent, DMD, MSc, PhD
Ali Murat Kökat, DDS, PhD
Alejandro Lanis, DDS, MS
Wei-Shao Lin, DDS, FACP
Dean Morton, BDS, MS, FACP
Panos Papaspyridakos, DDS, MS, PhD
Waldemar D. Polido, DDS, MS, PhD
Gerry Raghoebar, DDS, MD, PhD
R. H. Schepers, DDS, MD, PhD
Newton Sesma, DDS, MSD, PhD
Arjan Vissink, DDS, MD, PhD
M. J. H. Witjes, DDS, MD, PhD
Publications - Treatment Guide Slider
Share this page
Download the QR code with a link to this page and use it in your presentations or share it on social media.
Download QR code