ITI Treatment Guide Volume 6 - Header
ITI Treatment Guide Volume 6
Extended Edentulous Spaces in the Anterior Zone
ITI Treatment Guide Volume 6 - Extended Edentulous Spaces in the Esthetic Zone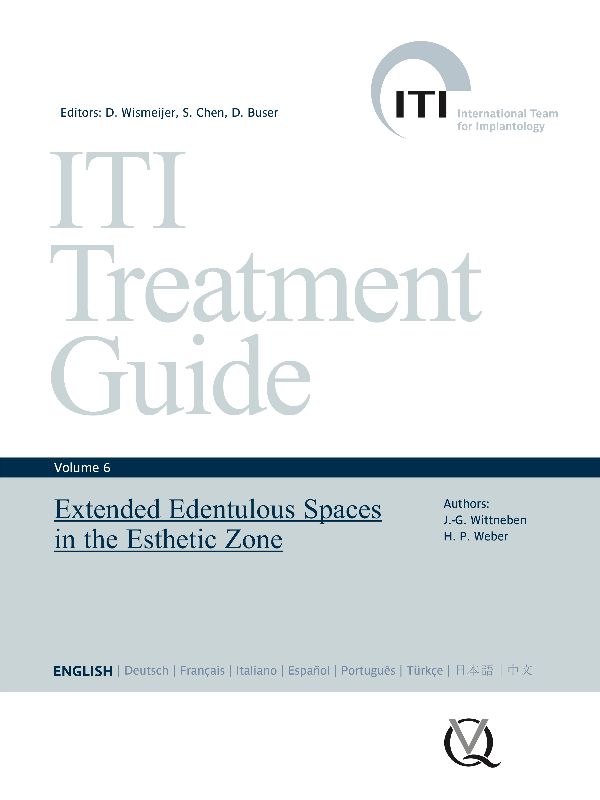 Volume 6 of the ITI Treatment Guide series has been compiled to provide clinicians with practice-oriented and evidence-based information about recommended clinical procedures to insert and restore implants in what is possibly the most challenging situation encountered in implant dentistry: extended edentulous spaces in the esthetic zone.
The book not only provides an up-to-date analysis of the current literature but also offers an extensive overview of advantages and shortcomings associated with the treatment protocols described. It presents and illustrates eight clinical case studies that follow the guidelines on detailed clinical implant planning as well as prosthetic treatment. The presentations are supplemented by five case reports that focus on the management of complications.
Authors
Julia-Gabriela Wittneben Matter, DMD, Dr med dent, MMSc
Hans-Peter Weber, DMD, Dr med dent
Case Contributors
Daniel Buser, DDS, Dr med dentDaniel Buser, DDS, Dr med dent
Stephen Chen, MDSc, PhD
Urs C. Belser, DMD, Dr med dent
William C. Martin, DMD, MS
James Ruskin, DMD, MD
Bruno Schmid, DMD
Ronald E. Jung, DMD, PD Dr med dent, PhD
Christopher Noel Hart, DMD
Hideaki Katsuyama, DDS, PhD
Masaaki Hojo, DDS
Masako Ogawa, DDS
Dejan Dragisic, Dr med dent
Muizzaddin Mokti, BDS, MMSc
German O. Gallucci, Dr med dent, DMD
Urs Brägger, Dr med dent
Sybille Scheuber, Dr med dent
Lisa Heitz-Mayfield, BDS, MDSc, Dr Odont
Scott E. Keith, DDS, MS, FACP
Gregory J. Conte, DMD, MS
Publications - Treatment Guide Slider
Share this page
Download the QR code with a link to this page and use it in your presentations or share it on social media.
Download QR code