ITI Treatment Guide Volume 13 - Header
ITI Treatment Guide Volume 13
Prevention and Management of Peri-Implant Diseases
ITI Treatment Guide Volume 13 - Prevention and Management of Peri-Implant Diseases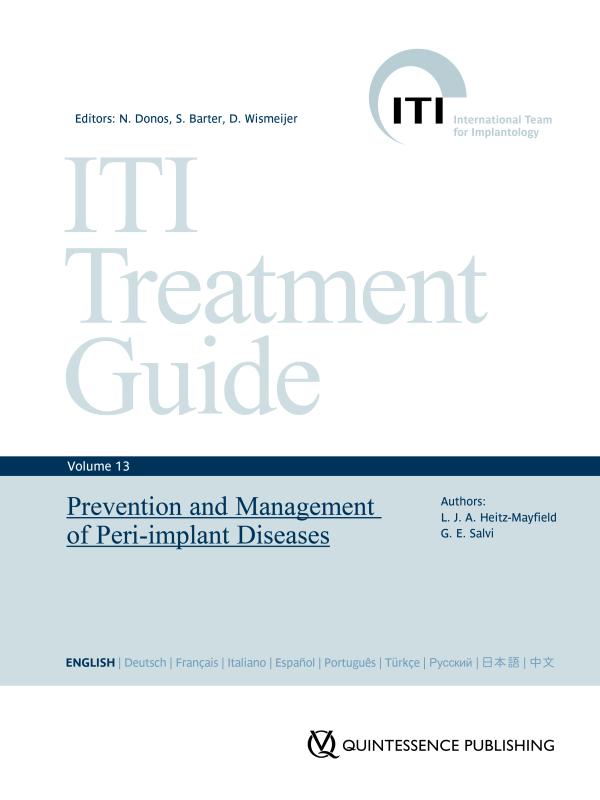 Dental implants are used routinely throughout the world to replace missing teeth. With the broadening of treatment options and an increasing number of clinicians providing implant therapy, it is important to ensure that the treatment methods used meet the highest clinical standards.

Volume 13 of the ITI Treatment Guide series provides clinicians with the latest evidence-based information regarding the prevention and management of peri-implant diseases. This information is based in part on the proceedings of the 6th ITI Consensus Conference held in Amsterdam in 2018, as well as on a review of the current literature. 17 clinical cases presented by experienced clinicians from all over the world illustrate the diagnosis and treatment of peri-implant diseases.
View free excerpt
Not a member? Not a problem! Get a free sneak peek into the ITI Treatment Guide Volume 13.
Get your print copy
ITI Fellows and Members receive a 50% discount on print copies of the entire ITI Treatment Guide series and have access to the online versions of all available ITI Treatment Guide volumes.
Log in to My ITI to purchase print copies through Quintessence and to view the online versions.
Authors
Lisa J. A. Heitz-Mayfield, Prof, BDS, MDSc, Odont Dr
Giovanni E. Salvi, Professor, Dr med dent, Dr h c, MSc
Case Contributors
Mauricio G. Araújo, Prof. Dr., DDS, MSc, PhD
Paolo Casentini, DDS, Dr Med Dent
Matteo Chiapasco, MD
Jason R. Gillespie, BS, DDS, MS
Eduardo R. Lorenzana, BS, DDS, MS
Flavia Matarazzo, Prof. Dr., DDS, MSc, PhD
Ausra Ramanauskaite, Dr med dent, PhD, DDS
Andrea Roccuzzo, Dr, DDS
Mario Roccuzzo, DMD
Ann-Marie Roos Jansåker, Odont Dr, DDS
Mariano Sanz, Professor, MD, DDS,
Ignacio Sanz-Sánchez DDS, DrOdont
Myroslav Solonko, DDS, Doctorate Student
Frank Schwarz, Professor, Dr
Nicola U. Zitzmann, Prof, Dr med dent, PhD
Share this page
Download the QR code with a link to this page and use it in your presentations or share it on social media.
Download QR code