Treatment Outcomes and Continuing Care
Soluciones en Complicaciones Técnicas: Diseño y Oclusión de Prótesis
En esta conferencia se aborda el tema de complicaciones protésicas sobre implantes dentales, de una forma didáctica y bien organizada. El Dr. Jorge Parra enumera las diferentes complicaciones que pueden surgir, no solo en el corto plazo sino en restauraciones que logran sobrevivir más de 5 años; propone además, con un excelente análisis de la literatura, algunas de las medidas que serían de utilidad para prevenir dichas complicaciones, así como diferentes formas de enfrentarlas, cuando estas ocurren. Analiza además los pros y los contras de diferentes materiales disponibles, así como métodos de elaboración, para distintas situaciones clínicas.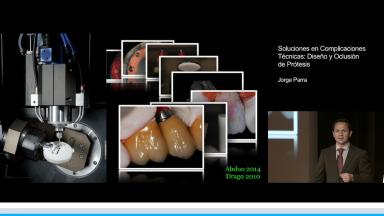 Al finalizar esta conferencia, el profesional deberá ser capaz de...
conocer las diferentes complicaciones protésicas sobre implantes
comprender y describir las posibles causas de dichas complicaciones
conocer algunas alternativas para abordar las complicaciones protésicas sobre implantes dentales
conocer las características de nuevos materiales que podrían prevenir complicaciones protésicas
Duration

69 minutes

Source

Congreso Ibérico ITI 2015

CPD/CME

1.17 hours

Purchase price

35 Academy Coins
Share this page
Download the QR code with a link to this page and use it in your presentations or share it on social media.
Download QR code