Prosthodontic Planning and Procedures
Restauraciones Fijas sobre Implantes
Esta presentación describe las complicaciones protésicas existentes en las restauraciones fijas sobre implantes, como son: Fractura del material cosmético, pérdida de retención y otros tipos de fracturas de la estructura.
Se describen las fracturas cosméticas según sus causas, su tamaño y sus posibilidades de reparación. En función de este ultimo factor, se clasifican en críticas y no críticas en función de la necesidad o no de ser removidas.
A través de la presentación de diversos casos clínicos, se desarollan las diferentes alternativas en cuanto a materiales disponibles en el manejo de la estética en el sector anterior superior, así como las diferentes posiciones que podrían tomar los implantes en brechas extensas anteriores.
Por último el autor detalla lo que llama "pink power" (U. Belser – F. Vailati) como parte necesaria en la evaluación de la planificación protética prequirúrgica muy bien ilustrada con casos clínicos.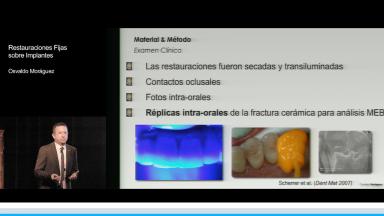 Al finalizar esta conferencia, el profesional deberá ser capaz de...
conocer y clasificar los diferentes tipos de fracturas del material cosmético en prótesis fija sobre implantes
promover la function oral y estética a largo plazo
describir las alternativas de materiales y su manejo (clínico y laboratorio) a fin de disminuir el porcentaje de complicaciones para el paciente
Duration

51 minutes

Source

Congreso Nacional ITI de Chile 2015

CPD/CME

0.87 hours

Purchase price

26 Academy Coins
Share this page
Download the QR code with a link to this page and use it in your presentations or share it on social media.
Download QR code