Treatment Outcomes and Continuing Care
Causas de las Complicaciones Estéticas
Las exigencias estéticas que se presentan hoy en día son muy altas, lo que obliga a conocer los parámetros a tener en cuenta para lograr tratamientos exitosos. La estética blanca y rosa juegan un papel clave en el resultado final de los tratamientos, conocer y manejar las diferentes técnicas es fundamental a la hora de abordar un caso.Existen múltiples causas de fracaso divididos en dos grupos, los iatrogénicos derivados de nuestros tratamientos y los anatómicos existentes previamente al tratamiento o, derivados de la pérdida de los dientes.
Debemos ser capaces de determinar los factores de riesgo estético para poder establecer un abordaje adecuado, de realizar una correcta selección de implantes y un correcto posicionamiento de los mismos ya que son factores determinantes que conducen a la consecución de los objetivos estéticos previamente establecidos.El manejo de los perfiles de emergencia determina la forma y estabilidad de los tejidos blandos; mediante el manejo de los pilares restauradores, prestando especial atención al contorno crítico y subcrítico de las mismas, seremos capaces de aproximar el resultado final a los objetivos previamente fijados, con resultados armónicos en su conjunto.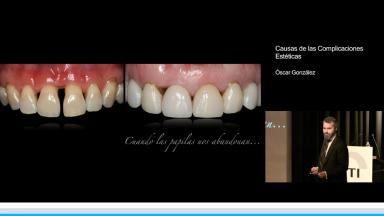 Al final de esta presentación usted debería ser capaz de...
determinar los causas de las complicaciones estéticas
identificar las limitaciones de nuestros tratamientos y el riesgo estético de los mismos
conocer y clasificar la integridad de los huesos residuales antes y después de una extracción
reconocer la importancia de la selección y posicionamiento tridimensional de los implantes y el impacto biológico y protésico que conllevan
determinar la influencia del contorno protésico en el resultado final
Duration

60 minutes

Source

Congreso Ibérico ITI 2015

CPD/CME

1 hours

Purchase price

30 Academy Coins
Share this page
Download the QR code with a link to this page and use it in your presentations or share it on social media.
Download QR code