Prosthodontic Planning and Procedures
L'ampiezza biologica: il punto di vista del protesista
In questa conferenza, il dr. Venezia esamina il tema dell'ampiezza biologica visto dall'ottica del protesista, valutando come questo importante concetto possa essere influenzato dagli aspetti protesici.
In particolare vengono discussi parametri come il diametro ed il numero degli impianti impiegati per una riabilitazione protesica, la scelta del tipo di impianto (transmucoso o sommerso), la gestione del profilo d'emergenza protesico col provvisorio, la decisione del materiale da impiegare.
Inoltre, vengono affrontate alcune importanti variabili come la gestione degli eccessi di cemento, la appropriatezza del profilo dell'abutment e il trasferimento del profilo d'emergenza dal provvisorio al definitivo nell'ottica di ottenere il miglior risultato possibile anche dal punto di vista biologico.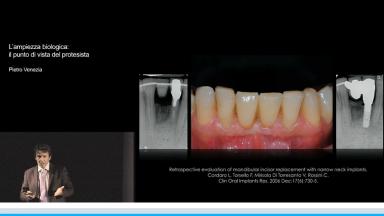 Al termine di questa Conferenza, sarete in grado di…
comprendere le procedure protesiche necessarie per il rispetto dell'ampiezza biologica
capire quali materiali protesici abbiano un comportamento ideale dal punto di vista biologico
trasferire correttamente il profilo d'emergenza protesico creato col provvisorio nella protesi definitiva
Duration

24 minutes

Source

ITI Congresso Italia 2013

CPD/CME

0.4 hours

Purchase price

12 Academy Coins
Share this page
Download the QR code with a link to this page and use it in your presentations or share it on social media.
Download QR code