Surgical Planning and Procedures
Le alternative alla chirurgia ricostruttiva: impianti inclinati e chirurgia guidata
Questa conferenza mira ad illustrare come impianti inclinati e chirurgia guidata possano essere un valido aiuto in specifici casi. Ad esempi ben illustrati di casi clinici, si accompagna la presentazione di due metanalisi che confermano la validità degli impianti inclinati, quando necessario, essendo sovrapponibili a quelli "tradizionali", in termini di predicibilità di risultato e anche di difficoltà nella protesizzazione. Inoltre, affrontando la tematica della chirurgia guidata, ne vengono illustrati vantaggi e limiti, sottolineando soprattutto la necessità di una solida esperienza clinica da parte del chirurgo per sfruttare questa sistematica. Nelle conclusioni è riassunto quanto spiegato, ribadendo che impianti inclinati e chirurgia guidata non devono diventare metodiche routinarie ma che possono essere sfruttate per semplificare casi complessi.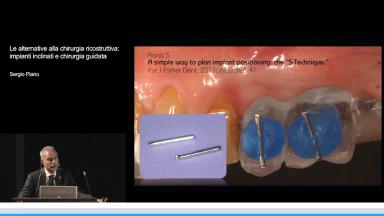 Alla fine dell'intervento si dovrebbe essere in grado di...
definire i casi che necessitano di impianti inclinati o del supporto della chirurgia guidata
aver compreso che gli impianti inclinati sono un' alternativa valida a tutti gli effetti, con dati della letteratura a supporto del loro utilizzo, anche per quanto riguarda le implicazioni protesiche
considerare la chirurgia guidata come uno strumento per aumentare la precisione di posizionamento implantare per operatori esperti, pur avendo ancora ad oggi importanti limiti
ricordare che questi sono ulteriori strumenti in possesso del chirurgo ma da utilizzare in casi e pazienti selezionati, non come pratiche di routine
Duration

38 minutes

Source

ITI Congresso Italia 2013

CPD/CME

0.63 hours

Purchase price

19 Academy Coins
Share this page
Download the QR code with a link to this page and use it in your presentations or share it on social media.
Download QR code