Structured Assessment and Treatment Planning
Impianti a diametro ridotto: la soluzione per tutti i casi?
Partendo da una attenta analisi dei risultati della ITI Consensus Conference 2013, il Dr. Casentini fornisce una completa panoramica sugli impianti a diametro ridotto. Attraverso l'illustrazione di numerosi casi clinici, vengono schematizzate le situazioni che consentano l'impiego di impianti a diametro ridotto o che invece facciano preferire l'adozione di tecniche chirurgiche più invasive. Criteri di scelta come le indicazioni protesiche, il distretto del cavo orale nel quale posizionare l'impianto, le condizioni anatomiche e la lunghezza minima dell'impianto, vengono presi in esame dall'autore per elaborare delle linee guida all'utilizzo di tali impianti nella pratica quotidiana.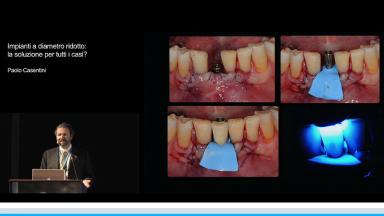 Al termine di questa conferenza, sarete in grado di…
apprendere quali siano gli impianti a diametro ridotto da utilizzare
conoscere le indicazioni cliniche per l'utilizzo degli impianti a diametro ridotto
verificare il campo di applicazione di tali impianti nelle monoedentulie, negli spazi ridotti, nelle selle edentule e nelle edentulie totali
Duration

41 minutes

Source

ITI Congresso Italia 2013

CPD/CME

0.7 hours

Purchase price

21 Academy Coins
Share this page
Download the QR code with a link to this page and use it in your presentations or share it on social media.
Download QR code