Introduction to Implant Dentistry
ITI kontrovers: Autologes Transplantat – (un-)ersetzlich?
Das erste ITI Online Symposium "ITI kontrovers", das im Internet live aus Köln übertragen wurde, drehte sich um die Frage, ob der autologe Knochen als Goldstandard für Augmentationen ausgedient hat. Unter der Moderation von Dr. Georg Bach, Freiburg, diskutieren Prof. Dr. Dr. Ralf Smeets, Hamburg, Prof. Dr. Dr. Daniel Rothamel, Düsseldorf, Prof. Dr. Dr. Hendrik Terheyden, Kassel, und Prof. Dr. Dr. Andreas Schlegel, München.
Des Weiteren gab es einen Überblick zum Stand der Wissenschaft von Univ-Prof. Dr. Dr. Johannes Kleinheinz und Einspieler zu den gängigen Standards in den USA von Dr. Ralf Power, Virginia, zu den zu beachtenden rechtlichen Aspekten bei der Patientenaufklärung von Fachanwältin Beate Bahner, Heidelberg und ein Statement zu autologen Knochentransplantaten und CAD/CAM-fräsbaren Knochenblöcken von Frau Professor Katja Nelson, Freiburg.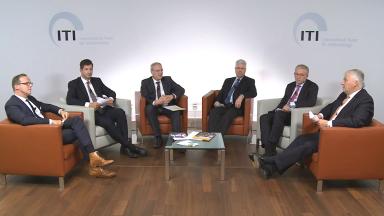 Nach diesem Beitrag sollten Sie…
umfangreiche Hintergrundinformationen zu verschiedenen Methoden, Materialien und Risiken einer Augmentation kennen
den aktuellen Stand der Wissenschaft zum Thema "autologer Knochen versus KEM" kennen
einen Einblick in die rechtlichen Aspekte bei der Patientenaufklärung haben
die verschiedenen Meinungen von Befürwortern von Knochenersatzmaterialien und Anhängern der Verwendung autologen Knochens kennen
Duration

93 minutes

Source

ITI kontrovers – Das Online Symposium 2016

CPD/CME

0 hours

Purchase price

0 Academy Coins
Share this page
Download the QR code with a link to this page and use it in your presentations or share it on social media.
Download QR code