Introduction to Implant Dentistry
Disputatio zum Thema 'Keramikimplantate'
Die vorliegenden Präsentationen von zwei sehr erfahrenen Rednern geben einen aktuellen Überblick zum Thema «Keramik- im Vergleich zu Titanimplantaten». Dabei werden vor allem klinische Langzeiterfahrungen mit Keramikimplantaten aus Zirkonoxid vermittelt, und es wird dargestellt, dass sich seit Markteinführung die konstante Weiterentwicklung signifikant auf die Verlässlichkeit dieser Implantate ausgewirkt hat. Darüber hinaus wird diskutiert, ob durch metallische Stoffe klinisch relevante Nachteile für Patienten entstehen können und ob ein metallfreies Leben und Arbeiten überhaupt sinnvoll ist. Die Darstellung «pro Keramik» und «pro Titan» erfolgt dabei nicht nur durch emotionale und empirische Argumente, sondern die inhaltlichen Kernpunkte werden mit Evidenz-basierten Daten belegt.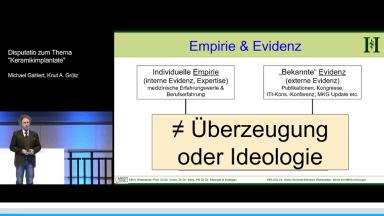 Nach dieser Vorlesung sollten Sie...
die Unterschiede bezüglich der Materialeigenschaften von Oxidkeramiken und Metallen kennen
Kenntnisse zum klinischen Langzeitverhalten der verschiedenen Generationen von Keramikimplantaten haben
erläutern können, inwiefern Keramikimplantate eine sinnvolle und verlässliche Ergänzung zu Titanimplantaten sind, diese jedoch noch nicht vollständig im klinischen Alltag ersetzen können
Duration

34 minutes

Source

ITI Congress Germany 2018

CPD/CME

0.57 hours

Purchase price

17 Academy Coins
Share this page
Download the QR code with a link to this page and use it in your presentations or share it on social media.
Download QR code