Introduction to Implant Dentistry
Anatomische Fallstricke in der oralen Implantologie
Diese Vorlesung bespricht anatomische Grundlagen sowie Fallstricke und ihre Implikation für implantologische Praxis, insbesondere den Verlauf des Nervus alveolaris inferior mit anatomischen Varianten und Subtypen. Nach den neusten Erkenntnissen zu Normvarianten des Foramen mentale und des Nervus incisivus inklusive der potentiellen neurosensorischen Problemen folgt eine Besprechung lingualer Defekte (unter sich gehende Stellen, Crista mylohyoidea, Stafne-Defekte) und lingualer Gefäße, die von Bedeutung für den Implantologen sind (v.a. Abgänge der A. sublingualis/A. submentalis). Abschließend gibt es eine kurze Exkursion zu Normvarianten und Pathologien des Sinus maxillaris inklusive Underwoodsche Septen und zu den arteriellen Gefäßen in der fazialen Sinuswand.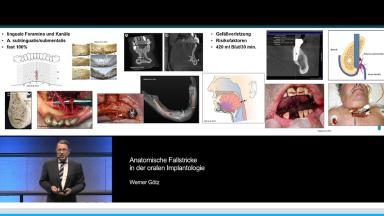 Nach dieser Vorlesung sollten Sie...
anatomische Grundlagen zum Nervus alveolaris inferior inklusive Normvarianten erklären können
die Problembereiche Mandibularkanal, lingualer Unterkiefer und Sinus maxillaris erläutern können
die Wertigkeit und Limitation der radiologischen 3D-Diagnostik vor oralchirurgischen Eingriffen bewerten können
Duration

19 minutes

Source

ITI Congress Germany 2018

CPD/CME

0.33 hours

Purchase price

10 Academy Coins
Share this page
Download the QR code with a link to this page and use it in your presentations or share it on social media.
Download QR code