Surgical Planning and Procedures
Como tornar a cirurgia mais simples e previsível
A apresentação demonstra fatores de risco relacionado ao resultado protético com implantes. Ressalta as expectativas dos pacientes no tratamento e como planejar procedimentos cirúrgicos de forma a se aproximar destas expectativas. Para isso, são destacados a importância do conhecimento da anatomia do rebordo alveolar, e como seus defeitos de tecidos duros e moles impactam a morfologia dos tecidos perimplantares. Também, são discutidos estratégias para obtenção de estabilidade através de técnica cirúrgica, conhecimento da macrogeometria e tecnologia de superfície. Além disso, a relevância da posição ideal para estabilidade tecidual, e como o planejamento virtual e guias cirúrgicas podem auxiliar na obtenção da posição 3D são esclarecidas. Por fim, são descritos também o papel do volume de tecidos duros e as possíveis complicacões relacionadas a erros de planejamento.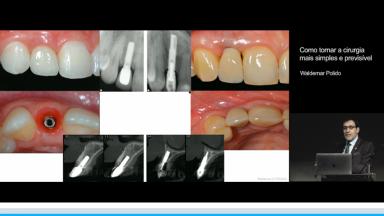 Ao final desta aula você deve ser capaz de…
discutir as expectativas atuais dos pacientes em relação às reabilitações implantossuportadas
identificar fatores de risco no tratamento com implantes
descrever o papel da técnica cirúrgica, da posição e da manipulação dos tecidos para diminuir a morbidade, e melhorar a estabilidade dos tecidos
Duration

34 minutes

Source

ITI Congress Brazil 2018

CPD/CME

0.57 hours

Purchase price

17 Academy Coins
Share this page
Download the QR code with a link to this page and use it in your presentations or share it on social media.
Download QR code