Surgical Planning and Procedures
Implantes curtos – uma alternativa previsível em casos complexos?
Apresentação traz uma revisão teórica sobre o potencial e previsibilidade dos implantes curtos ilustrados com uma série de casos desafiadores, com o objetivo de simplificar a técnica cirúrgica e protética com segurança e resultados previsíveis. Os casos apresentados trazem uma discussão clínica sobre as indicações, possíveis motivos de falhas e sugestões de soluções para casos limites e complexos.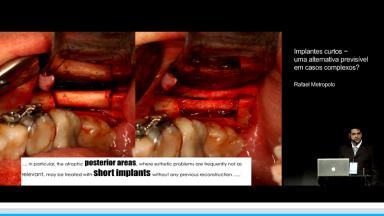 Ao final desta aula você deve ser capaz de…
discutir a indicação de implantes curtos
identificar casos com potencial para serem tratados com implantes curtos
descrever situações clínicas e protéticas favoráveis e desfavoráveis
Duration

25 minutes

Source

ITI Congress Brazil 2018

CPD/CME

0.43 hours

Purchase price

13 Academy Coins
Share this page
Download the QR code with a link to this page and use it in your presentations or share it on social media.
Download QR code