Prosthodontic Planning and Procedures
Abutment Selection for Fixed Dental Prostheses
The selection of the most appropriate implant abutment is individual to the requirements of each patient situation. This Learning Pathway explains the function of abutments and provides an overview of abutment designs and materials for fixed dental prostheses. The Learning Pathway outlines a prosthodontically driven selection process, and case examples demonstrate use of standard and customized abutments in different clinical situations. This Learning Pathway also offers five consensus statements on abutments and an alternative view on the use of zirconium dioxide as an abutment material.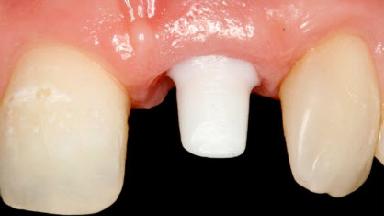 On completion of this Learning Pathway you should be able to…
define the function of implant abutments
identify different types of implant abutments
list different implant abutment materials and their indications
select abutments based on prosthodontic indications and planning
discuss alternative views on abutment materials
Abutment Materials

Abutment Selection

Abutments

All-Ceramic

Anterior FDP

CAD/CAM

Complications

Components & Materials

Crowns & Bridges

Customized Abutments

English

Esthetic Outcome

FDP

Full-Arch FDP

Gold Abutments

Languages

Mechanical/Technical Complications

Metal-Ceramic

Outcomes

Pathway

Posterior FDP

Prosthesis Design

Prosthesis Materials

Prosthodontic Planning & Procedures

Prosthodontics

Resin-Metal Hybrid

Standard Abutments

Steel Abutments

Success and Survival

Titanium Abutments

Zirconia Abutments
Share this page
Download the QR code with a link to this page and use it in your presentations or share it on social media.
Download QR code