Clinical Case Report
Replacement of Teeth 12 and 13 with Tissue-Level Implants
In 2001, a 48-year-old woman presented at a dental clinic with a failing fixed partial denture spanning from teeth 13 to 21. She was experiencing pain upon function, tenderness to palpation facial to tooth 13, and severe mobility of the prosthesis. Radiographic and clinical assessment revealed a subcrestal fracture of tooth 13, making its restoration unlikely. It was determined by the clinician that the tooth needed to be extracted prior to proceeding any further with dental care. After the extraction, the patient lost confidence in the progression of her treatment and sought consultation at the Center for Implant Dentistry. At her consultation visit in our clinic, an extra- and intraoral clinical examination revealed a medium lip line at full smile and an edentulous area spanning from 13 to 12 with both vertical and horizontal deficits in hard and soft tissue.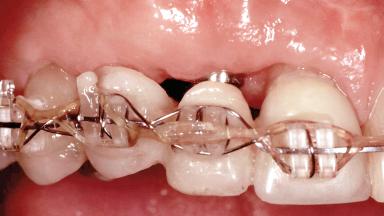 Surgical SAC classification

Complex

Prosthodontic SAC classification

Advanced
Source

Treatment Guide 6

Purchase price

10 Academy Coins

CPD/CME

0.15 hours
Share this page
Download the QR code with a link to this page and use it in your presentations or share it on social media.
Download QR code