Prosthodontic Planning and Procedures
Radiographic and Surgical Templates
Implant dentistry has evolved considerably since early treatment protocols in which the positioning of implants was not considered critical to a successful outcome.
In this surgically driven approach, implants were placed where there was sufficient bone to support them, and the emphasis was on the functional outcome.
This clinical image shows three adjacent implants supporting single crowns. These provided the patient with a good functional outcome, but esthetics at the level of the implant emergence was only a secondary consideration.
In modern implant dentistry, the overall esthetic result is of equal or greater importance to the patient. Esthetic results are closely related to a high level of accuracy in the positioning of the supporting dental implants.
A second clinical image shows an example of an implant-supported single crown on the upper left central incisor where careful implant positioning has allowed the emergence profile to mimic that of the natural right central incisor.
Templates to guide accurate three-dimensional implant placement are critical to achieving such an outcome. This ITI Learning Module will discuss routine use of templates in implant therapy.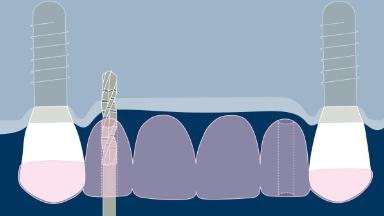 After completing this ITI Academy Module, you should be able to…
describe the role of radiographic and surgical templates
describe the ideal properties of templates
discuss the advantages and disadvantages of the various types of templates
Editor

Duration

35 min. + 10 min. for the Assessment

CPD/CME

0.75 hours

Purchase price

52 Academy Coins

Related assessment

Subtitles

Turkish

English

Japanese

Russian
Share this page
Download the QR code with a link to this page and use it in your presentations or share it on social media.
Download QR code