Prosthodontic Planning and Procedures
Design Principles for Complete Removable Dentures
Complete dentures have a longstanding record for rehabilitation of edentulous jaws, but are frequently associated with problems of retention and stability. Patients with these issues may be referred for implant therapy often without first addressing problems of inadequate design and fit of the complete prostheses.
Improving the design and construction of the prostheses may alleviate problems of retention and stability without the need for implants. Therefore, the first step in the rehabilitation of edentulous arches is to establish whether or not the prostheses are adequate.
A complete denture is defined as a removable dental prosthesis that replaces the entire dentition and associated structures of the maxilla or mandible. Complete removable dentures must be designed as ideally as possible.
This module will address two aspects of optimal prostheses design: the patient's denture requirements and the professional design considerations for construction of the prostheses.
This module is a prerequisite to the Learning Module titled 'Complete Removable Overdentures: Implant Configuration and Retention'.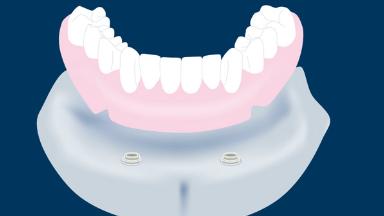 After completing this ITI Academy Module, you should be able to…
describe the denture requirements from the patient's perspective
discuss the importance of denture base fit and extension for denture retention and support
describe the aspects of denture design that aid in restoring the patient's overall physiognomy and oral function
explain the static and dynamic occlusal schemes that contribute to denture stability and chewing efficiency
Editor

Duration

15 min. + 10 min. for the Assessment

CPD/CME

0.42 hours

Purchase price

22 Academy Coins

Related assessment

Subtitles

English

Japanese
Share this page
Download the QR code with a link to this page and use it in your presentations or share it on social media.
Download QR code