Prosthodontic Planning and Procedures
When to Choose Titanium vs. Zirconia Abutments
Implant-supported single crowns are a well-established treatment option for the replacement of missing teeth. This lecture will help the clinician to choose between metal and ceramic abutments for the prosthetic treatment phase. Ceramic abutments have gained in popularity with more favorable esthetic outcomes than those provided by metal abutments.
Developments in material science have enhanced the properties of ceramics that are known to be brittle with an increased risk for fractures. This presentation discusses yttria-stabilized tetragonal zirconia polycrystal (Y-TZP), a high-strength ceramic with superior mechanical properties compared to all other ceramics. Y-TZP abutments are examined as an alternative to the well-established titanium abutments. Differences in clinical outcomes using titanium and zirconia abutments based on the present evidence are outlined. In addition, influencing factors for the choice of the abutment material are highlighted to help the clinician to make the ideal choice for different clinical situations.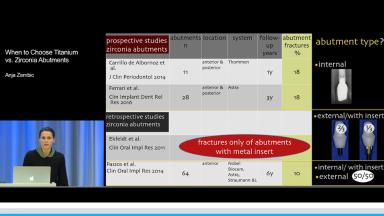 At the end of this Congress Lecture you should be able to…
outline the advantages and disadvantages of ceramic versus metal abutments
highlight differences in clinical outcomes between the two approaches
identify influencing factors for choice of abutment material
Duration

13 minutes

Source

ITI Online Academy Recordings, Basel, Switzerland, 2017

CPD/CME

0.23 hours

Purchase price

7 Academy Coins
Share this page
Download the QR code with a link to this page and use it in your presentations or share it on social media.
Download QR code