Surgical Planning and Procedures
Tissue Level Implants in the Aesthetic Zone with Less than 3-wall Bone Defects
Osseointegration of implants is now well established, and the current focus is on achieving ideal esthetics and function. Long-term maintenance of soft tissue esthetics around implants is a challenge that we are only now coming to understand better. Factors such as type of bone defect, peri-implant bone remodeling, and timing of implant placement have a profound effect on facial bone maintenance and future soft tissue architecture. This presentation demonstrates and highlights important surgical considerations for predictably achieving and maintaining esthetic implant restorations, particularly in defects with fewer than three bone walls. Arguments for the advantages of tissue-level implants with simultaneous guided bone regeneration (GBR) in such defects are presented.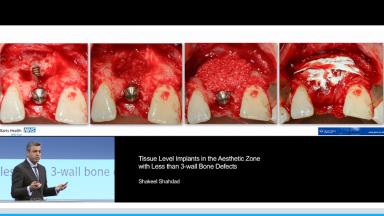 At the end of this Congress Lecture you should be able to…
describe clinical situations where implants can be successfully placed with simultaneous GBR in defects with fewer than three bone walls
discuss the advantages of tissue-level implants in severe defects
understand how reduced diameter tissue-level implants can improve the predictability of the GBR procedure
Duration

14 minutes

Source

ITI World Symposium 2017

CPD/CME

0.23 hours

Purchase price

7 Academy Coins
Share this page
Download the QR code with a link to this page and use it in your presentations or share it on social media.
Download QR code