Introduction to Implant Dentistry
The Evolution of Dental Implants and the ITI
This presentation provides an overview of the salient history related to dental implants being used to replace missing teeth and additionally describes the formation and organization of the International Team for Implantology or ITI.
Dr. Branemark provided the seminal observation that titanium metal could be incorporated into bone tissue and that this phenomenon could be used to support the replacement of teeth. His very specific protocol has evolved due to scientific investigation and by innovations in technology.
Examples of changes include a non-submerged surgical approach, micro-roughened implant surfaces and higher strength material such as an alloy of titanium and zirconium with a micro-roughened, chemically active hydrophilic surface.
To aid in the development of implant dentistry, a collaboration began between Dr. Schroeder and Fritz Straumann of the Straumann Institute. This partnership began in 1980 and has itself evolved into a world wide academic organization involving over 15,000 members dedicated to promoting and disseminating knowledge in the field of implant dentistry primarily through education, study clubs and research funding.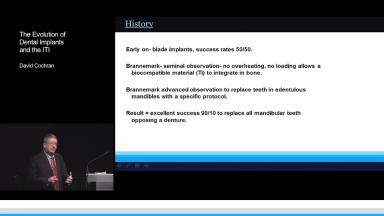 Duration

34 minutes

Source

ITI Congress Southern Africa 2013

CPD/CME

0.56 hours

Purchase price

0 Academy Coins
Share this page
Download the QR code with a link to this page and use it in your presentations or share it on social media.
Download QR code