Treatment Outcomes and Continuing Care
Reconstructive Management of Malaligned Implants and Infrapositioned Implants in Young Adults
Clinical problems with implant restorations comprise biological and technical complications and are often associated with esthetic and/or functional impairment.
Implant malpositioning or infrapositioning following ongoing growth (when implants had been placed in young adults) are a clinical challenge, particularly in single tooth implants in the maxillary anterior region.
While technical advancement with mesostructures, adhesive techniques and the application of pink porcelain frequently facilitate esthetically acceptable implant restorations, implant repositioning or removal may be regarded as last resort in extreme situations.
Alternative treatment options for single-tooth replacement comprise orthodontic space closure particularly in adolescence, and adhesive restorations either with a metal framework or full ceramics as a minimally invasive temporary or long-term treatment option.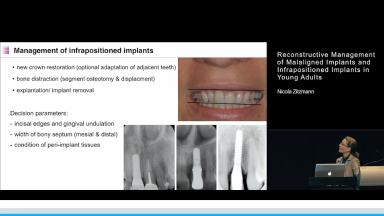 Duration

46 minutes

Source

ITI Congress Australasia 2013

CPD/CME

0.76 hours

Purchase price

23 Academy Coins
Share this page
Download the QR code with a link to this page and use it in your presentations or share it on social media.
Download QR code