Introduction to Implant Dentistry
Protocolo Digital en Odontología Implantológica
El flujo de trabajo digital es un proceso complejo que incluye múltiples pasos que deben comprenderse para poder incorporarlo en la practica diaria. Esto procedimientos son aplicables a nivel diagnóstico, planificación quirúrgica y restauradora, y ejecución clínica y de laboratorio. Se puede considerar que estos procedimientos a día de hoy tiene una precisión bastante alta, pero es necesario conocer y reducir al mínimo las discrepancias que puedan aparecer con respecto a lo planificado. Tanto la planificación como las impresiones digitales, nos brindan un campo de aplicación muy amplio en nuestra práctica diaria; las impresiones digitales disminuyen los errores de movilización de los pilares al ser reposicionados en las impresiones pero necesitan de una curva de aprendizaje para obtener resultados óptimos.
La cirugía guiada del mismo modo necesita de una correcta ejecución, tanto el la planificación, como en el asentamiento y manipulación de la férula quirúrgica para evitar errores. En esta presentación se muestran diferentes casos clínicos que han sido realizados mediante procedimientos digitales explicando paso a paso las acciones llevadas a cabo de principio a fin, mostrando que la tecnología digital permite trabajar de un modo fluido aumentando la capacidad de reproducibilidad de los tratamientos.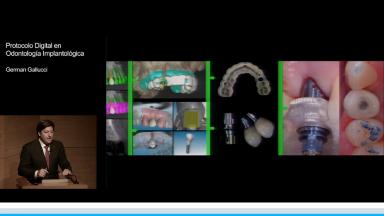 Al final de esta presentación usted debería ser capaz de...
entender el flujo de trabajo digital
conocer los procesos necesarios para poder ejecutar un tratamiento de un modo digital
comprender que los procesos digitales nos permiten ser mas precisos y predecibles, reduciendo el número de complicaciones quirúrgico restauradoras
conocer e identificar los principales problemas que pueden derivarse de una mala aplicación de las técnicas digitales
Duration

64 minutes

Source

Congreso Nacional ITI de Chile 2015

CPD/CME

1.07 hours

Purchase price

32 Academy Coins
Share this page
Download the QR code with a link to this page and use it in your presentations or share it on social media.
Download QR code