Structured Assessment and Treatment Planning
Planificación Digital Protésico Quirúrgica
La planificación virtual es una herramienta basada en procedimientos derivados de odontología clásica que permitirá establecer mediante un correcto diagnóstico una planificación y ejecución terapéutica predecibles. El análisis de los planes de tratamiento debe tener un componente estático y otro funcional, mediante la aplicación de tecnologías fotográficas y videográficas integradas. El lenguaje de comunicación mediante archivos Dicom para volúmenes y STL para superficies debe integrarse de modo que permita generar una fusión de la información con superposición de tejidos orales superficiales y óseos para desarrollar un plan de tratamiento digital. El mundo virtual no esta exento de errores de precisión y la identificación y conocimiento de los mismos es crucial a la hora de enfocar nuestros tratamientos.
La realización de cirugías sin colgajo debe considerarse una alternativa terapéutica pero no determinada por una moda sino por la existencia de parámetros objetivos que permiten la realización de la misma de un modo adecuado. La existencia de diferentes opciones terapéuticas a las que nos enfrentamos hace necesario conocer las posibles alternativas de planificación digital, asi como el abordaje quirúrgico asistido mediante férulas. En importante conocer las características y detalles de cada una para obtener un resultado final que se ajuste a lo planificado de modo virtual.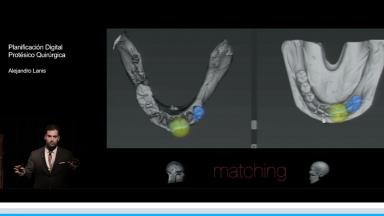 Al final de esta presentación usted debería ser capaz de...
conocer la existencia de herramientas de planificación quirúrgica guiada por la prótesis
saber identificar la existencia de los tipos de archivos que se manejan en la planificación virtual Dicom y STL
conocer la existencias de diferentes tipos de guías quirúrgicas, sus indicaciones y limitaciones
determinar los parámetros necesarios para hacer cirugías de manera predecible según el caso a tratar
Duration

35 minutes

Source

Congreso Nacional ITI de Chile 2015

CPD/CME

0.6 hours

Purchase price

18 Academy Coins
Share this page
Download the QR code with a link to this page and use it in your presentations or share it on social media.
Download QR code