Prosthodontic Planning and Procedures
Prótesis Sobre Implantes: Desafíos Estéticos
Na conferencia do Drº Pedro Couto Viana é possível repassar por vários dos seus casos clínicos, onde são apresentados motivos para a utilização de diferentes técnicas e materiais conforme o caso clínico. É possível ainda observar soluções protéticas menos consensuais bem como a aplicação e indicação da utilização de cerâmicas rosa.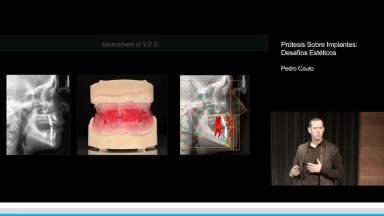 Ao final desta aula você sera capaz discutir:
O planejamento protético dos seus casos de implantes
A utilização de cerâmicas rosa
Soluções menos convencionais que poderá ajudar na resolução de determinados problemas protéticos e estéticos
Duration

53 minutes

Source

Congreso Ibérico ITI 2015

CPD/CME

0.9 hours

Purchase price

27 Academy Coins
Share this page
Download the QR code with a link to this page and use it in your presentations or share it on social media.
Download QR code