Structured Assessment and Treatment Planning
Desafios Estéticos na Zona de Transição
Nesta aula o Dr. Gastão Soares Moura Filho abordará o planejamento de casos extensos de próteses onde a área de transição é de grande importância. Há descrição das prevalências dos tipos de sorriso destacando que a maioria dos indivíduos mostra papila e ou zênite. A avaliação e aplicação do pink esthetic (Estética Rosa) score é importante no planejamento da reabilitação com implantes. Para próteses extensas, a prótese provisória ganha um papel imprescindível para condicionar o tecido para que se obtenha uma melhor adaptação na área cervical e que sirva como um facilitador da higienização. O material apresentado é de excelente qualidade com figuras, esquemas e casos clínicos para facilitar o planejamento correto da zona de transição.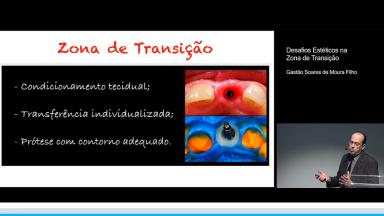 Ao final desta aula você será capaz de:
Discutir o que é zona de transição natural, e zona de transição protética
Identificar os tipos de sorrisos mais prevalentes e sua importância na reabilitação protética
Descrever os passos do planejamento protético
Reconhecer os tipos de base das próteses e suas indicações
Duration

31 minutes

Source

ITI Congress Brazil 2015

CPD/CME

0.53 hours

Purchase price

16 Academy Coins
Share this page
Download the QR code with a link to this page and use it in your presentations or share it on social media.
Download QR code