Structured Assessment and Treatment Planning
Palliative Care – Comforting Patients Near End of Life
This presentation discusses dental treatment in patients considered to be near the end of life. Comfort care and palliative treatment may be the only options for this category of patients. This lecture advocates forward thinking during treatment planning and a multidisciplinary approach due to the complex interactions of oral health. The effects of palliative care on the mouth in the form of xerostomia, oral pain, and discomfort are emphasized. The lecturer also presents considerations for dental implants during palliative care, including indications for removing superstructures.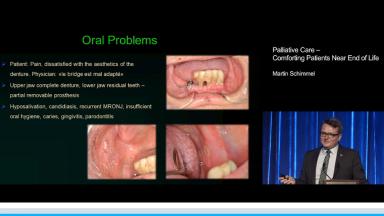 At the end of this Congress Lecture you should be able to…
identify the moment that relates to end of life, and how palliative care can be applied
comprehend the oral problems in palliative patients
list oral manifestations that appear in near end-of-life patients
Duration

29 minutes

Source

ITI Annual Conference 2015 - Istanbul, Turkey

CPD/CME

0.5 hours

Purchase price

15 Academy Coins
Share this page
Download the QR code with a link to this page and use it in your presentations or share it on social media.
Download QR code