Surgical Planning and Procedures
La préparation osseuse et gingivale pré-implantaire
Cette présentation expose les techniques de préparation osseuse et gingivale pré-implantaire dans les cas où les volumes osseux ne permettent pas la pose d'implant dans un axe prothétique optimal.
La pose d'un implant est un acte prothétique pouvant nécessiter une reconstruction afin d'éviter une compensation implantaire et/ou prothétique. La gestion des différents types de défauts osseux est un véritable challenge d'autant plus en secteur esthétique. Il est primordial de déterminer le niveau de difficulté d'une réhabilitation implantaire afin d'établir un pronostic et d'assurer un résultat esthétique à long terme au patient.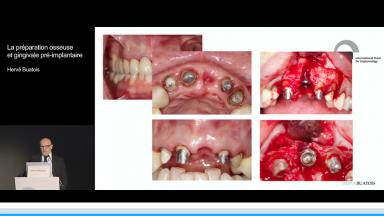 A la fin de cette présentation, vous devriez être en mesure…
d'identifier et de quantifier les différents types de défaut osseux et de tissus mous
de déterminer les facteurs décisionnels et les principes de régénération osseuse
de poser l'indication d'une greffe osseuse pré-implantaire
d'adapter le protocole chirurgical et prothétique aux défauts osseux
d'évaluer le pronostic esthétique afin d'informer le patient
Duration

45 minutes

Source

ITI Congress Francophone 2018

CPD/CME

0.77 hours

Purchase price

23 Academy Coins
Share this page
Download the QR code with a link to this page and use it in your presentations or share it on social media.
Download QR code