Surgical Planning and Procedures
Elévation du plancher sinusien en pratique privée: techniques et résultats à long terme
Cette présentation revient sur les différentes techniques d'augmentation sinusienne, en développant en particulier celle des augmentations par voie crestale (ostéotomes).
Une première étude dont le recul clinique atteint 10 ans, permet d'estimer le gain osseux obtenu autour de l'implant sans utilisation de biomatériaux, c'est-à-dire par simple soulèvement de la membrane sinusienne par les ostéotomes. Une deuxième étude au recul clinique de 3 ans présente une comparaison des gains osseux obtenus avec et sans utilisation de biomatériaux.
Dr Nedir expose ensuite l'attitude thérapeutique qu'il préconise et qui lui permet d'opter pour une pose d'implant en secteur postérieur sans élévation sinusienne, avec augmentation par voie latérale ou par la technique des ostéotomes, avec ou sans biomatériaux. Il termine sa présentation en offrant d'élargir les indications des chirurgies d'augmentation sinusienne par la technique d'ostéotomes, comme décrites par le consensus ITI de 2008.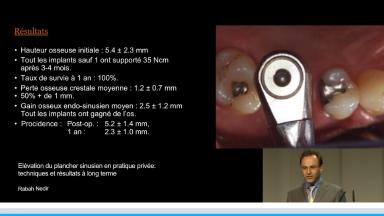 À la fin de cette présentation, vous devriez être en mesure :
De comprendre les critères permettant d'opter pour la technique d'augmentation sinusienne par ostéotomes
D'identifier les contre-indications liées à cette technique
De comprendre en quoi la technique d'augmentation par ostéotomes implique de savoir réaliser une augmentation par voie latérale
Duration

27 minutes

Source

Congrès ITI Suisse 2015

CPD/CME

0.45 hours

Purchase price

14 Academy Coins
Share this page
Download the QR code with a link to this page and use it in your presentations or share it on social media.
Download QR code