Surgical Planning and Procedures
L'apport du flux tout numérique dans les extractions et implantation immédiate de l'unitaire à la réhabilitation bimaxillaire
Cette conférence décrit la mise en œuvre d'un flux numérique dans le but de contribuer au respect des principes biologiques qui régissent le succès implant-prothétique. Le positionnement tridimensionnel du ou des implants est l'élément clé d'une bonne intégration tissulaire et esthétique. La possibilité d'anticiper ce positionnement lors d'une planification numérique par rapport aux tissus osseux, aux tissus mous et au projet prothétique est une plus-value importante. Autre avantage, la mise en charge et la temporisation immédiate sont plus ergonomiques. La technique est déclinée pour les édentements unitaires, pluraux, et complets.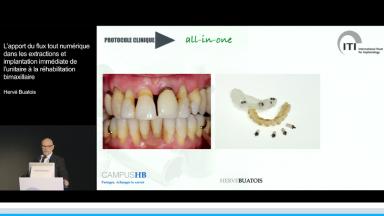 À la fin de cette présentation, vous devriez être en mesure…
de comprendre les critères de positionnement implantaire
de comprendre les principales étapes d'un flux digital pour le traitement implantaire chirurgical
de percevoir les avantages ergonomiques de la planification numérique
Duration

41 minutes

Source

ITI Congress Francophone 2018

CPD/CME

0.7 hours

Purchase price

21 Academy Coins
Share this page
Download the QR code with a link to this page and use it in your presentations or share it on social media.
Download QR code