Surgical Planning and Procedures
L`implantologie guidée – où nous en sommes
Cette présentation nous montre l'utilité de la chirurgie guidée pour assurer un positionnement chirurgical optimal des implants. Dans ce contexte, le Dr Kühl nous retrace les différentes techniques jusqu'ici utilisées pour produire un guide chirurgical à partir d'une planification implantaire numérique. Aujourd'hui, une empreinte numérique fusionnée à une imagerie numérique 3D permet de planifier la pose d'implants en « full numérique ». Cette planification permet de produire directement un guide chirurgical à l'aide d'une imprimante 3D. Cette technique fiable doit cependant être adaptée chez l'édenté complet à cause du manque de repères communs aux différentes imageries (empreinte, tomographie…).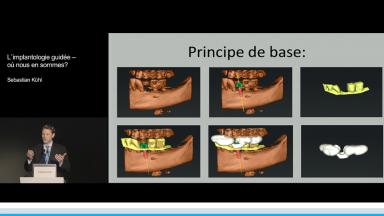 À la fin de cette présentation, vous devriez être en mesure…
de comprendre l'intérêt de la chirurgie guidée
de connaître les différentes techniques de guidage en chirurgie implantaire
de maitriser les étapes de réalisation d'un guide chirurgical
Duration

37 minutes

Source

ITI Congress Francophone 2018

CPD/CME

0.63 hours

Purchase price

19 Academy Coins
Share this page
Download the QR code with a link to this page and use it in your presentations or share it on social media.
Download QR code