Structured Assessment and Treatment Planning
Integração estética entre dentes e implantes
Fundamentado por muitas pesquisas e evidências científicas, o objetivo é demonstrar através de casos clínicos complexos a possível integração entre estética alcançada sobre dentes e sobre implantes adjacentes, fundamentado por avaliações da estética rosa e branca e as suas correlações. A apresentação demonstra ainda, passos de reabilitações estéticas complexas, desde o seu planejamento, com várias abordagens clínicas até a utilização de vários materiais restauradores cerâmicos baseados em avaliações de risco estético, associados ou não com fluxos digitais com resultados finais muito semelhantes e cientificamente fundamentados.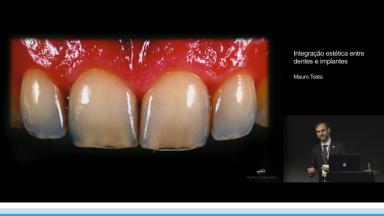 Ao final desta aula você deve ser capaz de…
conhecer a integração estética que há entre a reabilitação de dentes e implantes adjacentes
identificar as diferenças e parâmetros da estética rosa (gengival) e a estética branca (dental)
entender a importância de uma excelente avaliação oclusal e dos tecidos periodontais associados à avaliação estética para promoção de planos de tratamentos estéticos
entender a íntima associação entre materiais restauradores cerâmicos e a anatômia e estrutura morfológica cromática interna dos dentes
reconhecer que a reabilitação estética pode ser obtida com planos de tratamento com fluxos digitais e analógicos com resultados semelhantes
Duration

30 minutes

Source

ITI Congress Brazil 2018

CPD/CME

0.5 hours

Purchase price

15 Academy Coins
Share this page
Download the QR code with a link to this page and use it in your presentations or share it on social media.
Download QR code