Structured Assessment and Treatment Planning
Previsibilidade da reconstrução tecidual na zona estética
Nesta apresentação são demonstrados os conceitos atuais de sucesso para reabilitação com implantes no segmento anterior da maxila, e seu impacto na estética do sorriso. Os fatores de risco relacionados as condições anatômicas locais, a importância do diagnóstico das características dos tecidos duros e moles, e conceitos regenerativos para tratar defeitos teciduais na maxila são discutidos. Além disso, é destacada uma opção para tratar defeitos ósseos complexos verticais e horizontais associado com técnica denominada bone ring. Cuidados técnicos e manejo dos tecidos são descritos para o sucesso com a referida abordagem.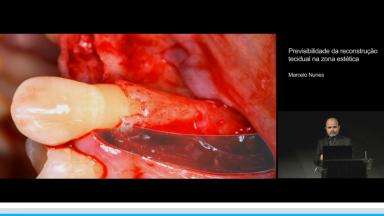 Ao final desta aula você deve ser capaz de…
explicar o conceito atual de sucesso para implantes com envolvimento estético
identificar os fatores de risco relacionados aos tecidos perimplantares
discutir a técnica bone ring como alternativa para tratar defeitos alveolares verticais
Duration

32 minutes

Source

ITI Congress Brazil 2018

CPD/CME

0.53 hours

Purchase price

16 Academy Coins
Share this page
Download the QR code with a link to this page and use it in your presentations or share it on social media.
Download QR code