Prosthodontic Planning and Procedures
Influência do Design e Confecção das Restaurações na Saúde Periimplantar
Esta aula abordará a influência do desenho e confecções das restaurações sobre a saúde peri-implantar, é apresentado um protocolo para confecção de uma restauração estética bem sucedida, com início a partir do planejamento para instalação do implante e se estende até a fase de finalização da restauração definitiva. São abordados vários aspectos de importância para o correto planejamento protético como: biotipo gengival, enceramento diagnóstico, tipo de prótese, guia cirúrgico, orientação tridimensional, tipo do implante. No decorrer da aula são apresentados vários aspectos que precisam ser considerados antes e após a instalação do implante para que se obtenha sucesso estético e funcional. O Dr. Mezzomo apresentará um excelente material embasado na literatura e com aplicação clínica e conclui que a fase das próteses provisórias deve ser vista como uma fase de extrema importância para o sucesso a longo prazo dos tratamentos com implantes dentários.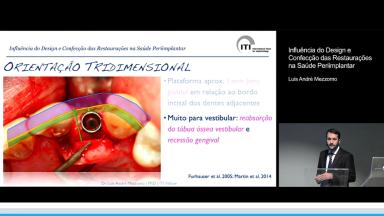 Ao final desta aula você será capaz de:
Discutir o protocolo para confecção de próteses bem sucedidas
Descrever os tipos de pilares, suas aplicações, indicações, vantagens e desvantagens
Reconhecer o papel das próteses provisórias sobre a saúde e a estética peri-implantar
Duration

31 minutes

Source

ITI Congress Brazil 2015

CPD/CME

0.53 hours

Purchase price

16 Academy Coins
Share this page
Download the QR code with a link to this page and use it in your presentations or share it on social media.
Download QR code