Surgical Planning and Procedures
Implantes de Diametro Reducido
El Dr. Polido en esta ocasión discute el uso de implantes de diámetro reducido, su definición, indicaciones, ventajas, desventajas y aspectos a considerar. Primeramente se lleva a cabo un panorama histórico de cómo ha venido evolucionando, tanto el diseño de los implantes, como su superficie; y más recientemente, su composición química (aleación de titanio con zirconio). El Dr. Polido hace un especial énfasis en la búsqueda de procedimientos quirúrgicos cada vez menos invasivos, y la posibilidad de reducir la necesidad de llevar a cabo injertos con este tipo de implantes, basando dicha discusión en literatura reciente.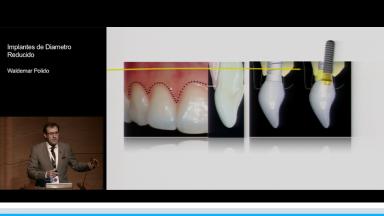 Al finalizar esta conferencia, el profesional deberá ser capaz de...
definir a qué se le considera un implante de diámetro reducido
describir las indicaciones, ventajas y desventajas de este tipo de implantes
comprender las situaciones clínicas en las que se justifica el uso de estos implantes, así como el diseño protésico que debe acompañarlos
entender las particularidades que deben observarse en la técnica quirúrgica para lograr una buena colocación de los implantes de diámetro reducido
Duration

49 minutes

Source

Congreso Nacional ITI de Chile 2015

CPD/CME

0.83 hours

Purchase price

25 Academy Coins
Share this page
Download the QR code with a link to this page and use it in your presentations or share it on social media.
Download QR code