Surgical Planning and Procedures
Implantes Cortos
En esta conferencia el Dr. Polido hace una breve pero interesante presentación acerca de los implantes dentales cortos. En ella analiza una gran cantidad de situaciones en las que la colocación de implantes convencionales tendría que echar mano de procedimientos quirúrgicos muy invasivos para reconstruir el proceso alveolar. Muestra evidencia científica de las diferentes tazas de éxito que tienen los aumentos óseos en sentido vertical, y hace hincapié en la conveniencia de utilizar implantes cortos, que han demostrado ser predecibles al usarse ferulizados, y con mucho menos morbilidad.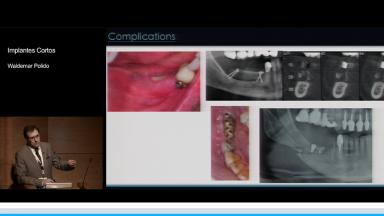 Al finalizar esta conferencia, el profesional deberá ser capaz de...
identificar a qué se le denomina un implante corto y cuál es hoy su longitud mínima
describir las principales indicaciones y contraindicaciones de su uso
comprender las ventajas que ofrece un implante corto sobre un implante regular en combinación con injertos óseos
entender los aspectos importantes de la técnica quirúrgica para su empleo
comprender el diseño protésico que debe acompañar al uso de estos implantes
Duration

18 minutes

Source

Congreso Nacional ITI de Chile 2015

CPD/CME

0.3 hours

Purchase price

9 Academy Coins
Share this page
Download the QR code with a link to this page and use it in your presentations or share it on social media.
Download QR code