Surgical Planning and Procedures
Reconstruções ósseas em casos complexos
Esta apresentação descreve os tipos de defeitos ósseos com as características que determinam diferentes níveis de atrofia e os desafios para reconstruir situações de alta complexidade. O papel do osso autógeno, e de diversos biomateriais como o osso bovino são destacados, assim como de fatores de crescimento recombinante obtidos por engenharia tecidual. A partir do entendimento de conceitos biológicos, são demonstrados estratégias clínicas com técnicas de regeneração óssea guiada através da utilização de barreiras, tanto membranas de colágeno bovino, como malhas de titânio. Os cuidados técnicos e resultados no leito ósseo receptor, e com os tecidos moles, são discutidos.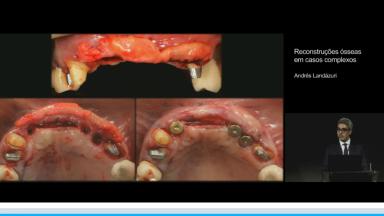 Ao final desta aula você deve ser capaz de…
identificar as características de uma atrofia severa de rebordo alveolar
discutir as características e papel das barreiras de colágeno e malhas de titânio em reconstruções de rebordo alveolar
reconhecer as opções reconstrutivas e cuidados técnicos, para tratar atrofias complexas horizontais e verticais combinadas
Duration

32 minutes

Source

ITI Congress Brazil 2018

CPD/CME

0.53 hours

Purchase price

16 Academy Coins
Share this page
Download the QR code with a link to this page and use it in your presentations or share it on social media.
Download QR code