Surgical Planning and Procedures
Können kurze Implantate die Augmentation vermeiden?
Herr Dr. Hentschel diskutiert in dieser Präsentation, die im Rahmen des deutschen ITI Kongresses in Dresden gehalten wurde, aus der Sicht eines Anwenders die Frage, ob kurze Implantate Augmentationen vermeiden können. Dabei stellt er retrospektive Daten aus der eigenen Praxis vor und legt den Fokus auf den seitlichen Unterkiefer.
Er definiert kurze Implantate als kleiner gleich 8 mm und vergleicht diese mit längeren Implantaten größer gleich 12 mm. Dabei geht er auch knapp auf prothetische Aspekte der Versorgung kurzer Implantate, sowie die Frage des Belastungszeitpunktes auf der Basis der ISQ Messung, ein. An klinischen Fällen zeigt er den Sinn des Einsatzes von Soft Tissue Level Implantaten in dieser Indikation auf.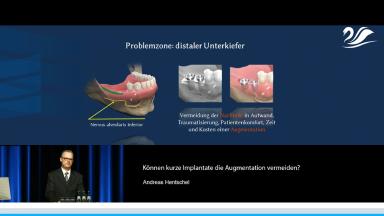 Nach dieser Vorlesung sollten Sie:
die wichtige Indikation kurzer Implantate im seitlichen Unterkiefer kennen
prothetische Aspekte der Versorgung mit kurzen Implantaten kennen
die Bedeutung von Soft Tissue Level Implantaten im seitlichen Unterkiefer kennen
Duration

16 minutes

Source

ITI Kongress Deutschland, 2015

CPD/CME

0.27 hours

Purchase price

8 Academy Coins
Share this page
Download the QR code with a link to this page and use it in your presentations or share it on social media.
Download QR code