Surgical Planning and Procedures
Choix chirurgicaux, incidences esthétiques
Cette présentation s'intéresse à l'influence des étapes chirurgicales sur le résultat esthétique en implantologie.
Il est communément admis qu'une épaisseur minimale de gencive kératinisée autour des implants est favorable au résultat esthétique mais aussi au maintien d'une bonne santé des tissus péri-implantaires au long terme, mais il n'existe pas de consensus à ce niveau. Une épaisseur osseuse de 2 mm autour des implants est nécessaire pour prévenir les résorptions osseuses et pour soutenir de façon pérenne les tissus mous.
Le moment de l'implantation (immédiate, précoce, différée) influe peu sur le résultat esthétique ; l'implantation immédiate ne supprime pas la résorption physiologique post-extractionnelle.
Tous les types d'implants peuvent être utilisés en secteur antérieur, mais l'utilisation de connexions au niveau osseux offre plus de latitude sur le placement de l'implant et sur la réhabilitation prothétique. Afin de limiter les proximités entre implants et entre dents et implants, l'utilisation d'implants de faible diamètre et la réduction du nombre d'implants sont des options à considérer.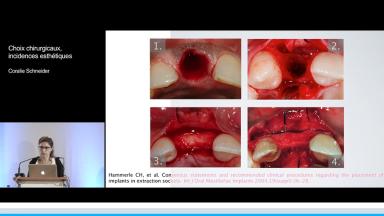 À la fin de cette présentation, vous devriez être en mesure…
d'identifier les situations où une étape d'augmentation des tissus mous et/ou des tissus durs est nécessaire avant la mise en place de l'implant pour obtenir un résultat esthétique pérenne
de discuter l'intérêt d'une implantation précoce ou différée
de choisir le type et le nombre d'implants à placer en secteur antérieur pour optimiser le résultat esthétique
Duration

35 minutes

Source

ITI Congress France 2016

CPD/CME

0.6 hours

Purchase price

18 Academy Coins
Share this page
Download the QR code with a link to this page and use it in your presentations or share it on social media.
Download QR code