Surgical Planning and Procedures
Wound Closure and Suturing
Appropriate management of surgical wounds through careful repositioning of flaps followed by stabilization with sutures is a basic tenet of oral surgery. This Learning Pathway discusses the processes involved in wound closure and suturing. It is based on two Learning Modules by Aileen Bell and is supported by clinical video examples of anterior and posterior flap closures.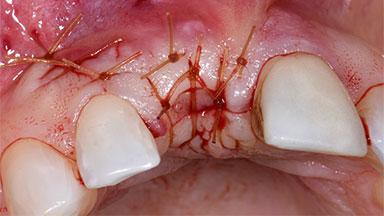 On completion of this Learning Pathway you should be able to…
describe the process of wound healing
list the principles of surgical wound healing
describe the principles and techniques of suturing
describe the potential complications of surgical wound closure
Anatomy & Biological Principles

English

Languages

Pathway

Peri-Implant Mucosa

Soft Tissue Management

Surgery

Surgical Planning & Procedures

Wound Closure & Suturing

Wound Healing
Share this page
Download the QR code with a link to this page and use it in your presentations or share it on social media.
Download QR code