Prosthodontic Planning and Procedures
Transitional Prostheses
Transitional prostheses play an important role in implant therapy particularly, when it involves several clinical and laboratory stages. They can be fixed or removable, but their common aim is to ensure that the patient is comfortable on both an esthetic and functional level throughout the duration of treatment. With this aim in mind, this Learning Pathway discusses the indications and design principles for transitional prostheses together with the various options and their respective advantages and disadvantages. The Learning Pathway is based on a Learning Module supported by lectures and clinical case examples that demonstrate the various transitional options.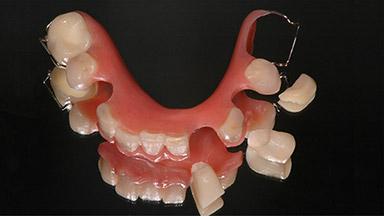 On completion of this Learning Pathway you should be able to:
list indications for transitional prostheses
outline design principles for transitional prostheses
describe options for transitional prostheses
discuss advantages and disadvantages of fixed and removable transitional prostheses
select an appropriate transitional prosthesis based on clinical considerations
Anatomy & Biological Principles

English

FDP

Languages

Pathway

Peri-Implant Mucosa

Prosthesis Design

Prosthodontic Planning & Procedures

Prosthodontically Driven Planning

Prosthodontics

Provisional Prostheses

RDP

Treatment Planning
Share this page
Download the QR code with a link to this page and use it in your presentations or share it on social media.
Download QR code