Introduction to Implant Dentistry
Tissue Integration
The phenomenon of integration of dental implants into bone has revolutionized how missing teeth can be replaced. Implants are anchored in bone tissue and penetrate the soft tissue and it is essential to understand the integration around dental implant prostheses to achieve optimal outcomes.
This Learning Pathway looks at how hard and soft tissue integration occurs. It also examines the effect of the implant/abutment interface design on the outcome and stability of the marginal tissues and demonstrates this in two clinical case examples.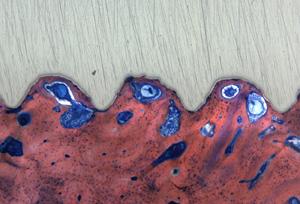 On completion of this Learning Pathway you should be able to...
define hard and soft tissue integration of dental implants
discuss how hard tissue integration or osseointegration occurs
discuss how soft tissue integration occurs and contrast this to teeth
relate the effects of different implant/abutment connections on marginal tissues
Abutment Selection

Anatomy & Biological Principles

Biologic Width

Bone Remodeling

Coated Surface

Components & Materials

English

General Topics

History of Implant Dentistry

Implant Surfaces

Implants

Introduction to Implant Dentistry

Languages

Machined Surface

One-Piece Implants

Osseointegration

Osteotomy Procedure

Pathway

Peri-Implant Mucosa

Prosthodontics

Rough Surface

Surgery

Titanium Implants

Two-Piece Implants
Share this page
Download the QR code with a link to this page and use it in your presentations or share it on social media.
Download QR code