Introduction to Implant Dentistry
Timing of Implant Placement
Once a tooth has been removed, dynamic physiological and dimensional changes take place during the healing phase that may influence the choice of the best time to place an implant. There are several time points following tooth extraction that may be considered for the placement of dental implants. Each time point has advantages and disadvantages.
This Learning Pathway defines the different time points and explains advantages and disadvantages of each. The Pathway outlines the factors that are important in determining the timing of implant placement and offers clinical examples to demonstrate application in practice. The Pathway also discusses the timing of placement in combination with guided bone regeneration (GBR).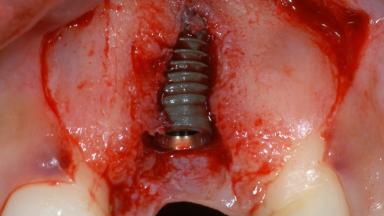 On completion of this Learning Pathway you should be able to...
define the different time points for implant placement following tooth extraction

list the advantages and disadvantages of each time point

list the clinical criteria recommended by the ITI for case selection
Anatomy & Biological Principles

Bone Augmentation

Bone Management

Bone Quality

Bone Remodeling

Early Placement with Bone Healing

Early Placement with Soft Tissue Healing

English

GBR

Horizontal Bone Augmentation

Immediate Placement

Introduction to Implant Dentistry

Languages

Late Placement

Pathway

Placement Protocols

Ridge Preservation

Surgery

Wound Healing
Share this page
Download the QR code with a link to this page and use it in your presentations or share it on social media.
Download QR code